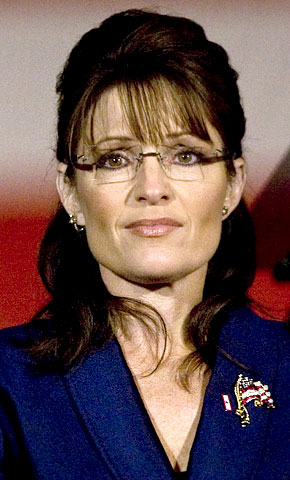 "Stupidity is the Devil. Look into the eyes of Sarah Palin and you will see real stupidity. It is a kind of bottomless stupidity, a fiendish stupidity. Tea Party leaders are the most horrifying, cannibalistic and nightmarish creatures in the world." – me (after Werner Herzog)
If anyone could be an American Dictator, it would be Sarah Palin. She looks manipulable, but she also believes in her destiny. Not in a rational, "believe in yourself!" kind of way, but in a creepy totalitarian Triumph of the Will sort of way. And forget comparing such a mind to anyone else: she's American, and when America goes totalitarian, it will do so in a way that will be bigger, badder, and more efficient than any other totalitarian regime.
The people expecting her to be easy to bend will get her into office, then they will be as shocked as everyone but Palin at what she does with that office. I cherish my independent political status, but a Palin candidacy for the presidency could make a Democrat out of me. Stupidity is the Devil, and I refuse to vote for the Devil.