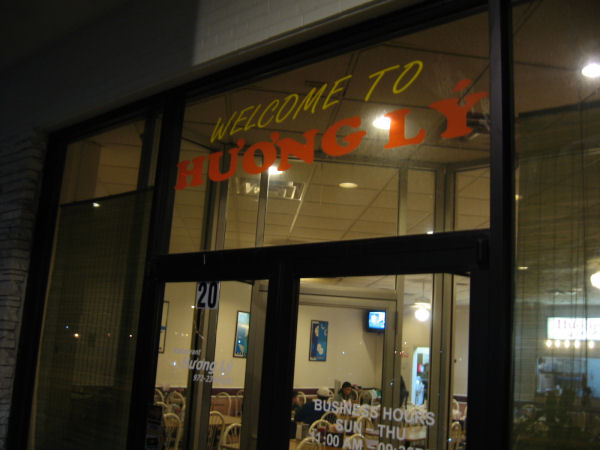 For my birthday, I headed down to the Huong Ly, a great little Vietnamese place just north of Belt Line, off Greenville. Don't go there for the atmosphere: go there for the great food at very reasonable prices. We had four entrees and two appetizers for right at $30.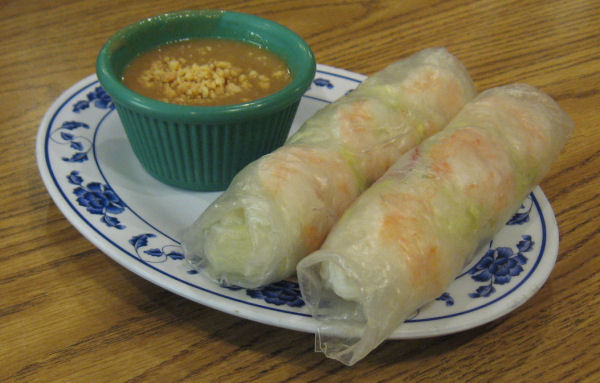 First to arrive were the spring rolls… delightful little things, full of contrasting temperatures and textures. Dip them into the sweet peanut sauce for more fun.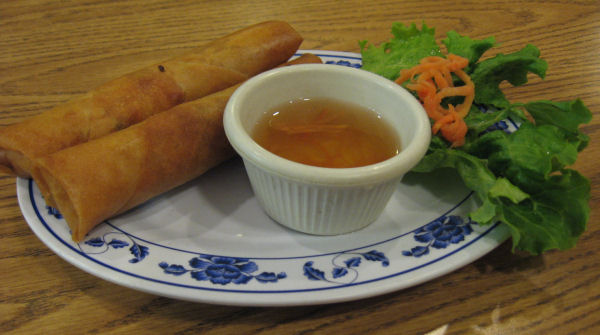 Next were the fried eggrolls. As mentioned here previously, these are full of meat and very little filler. Absolute heaven in a compact cylinder. They arrive freshly fried, very hot on the inside. I have to wait a little before starting on one of these so I don't burn my tongue, but I definitely eat one.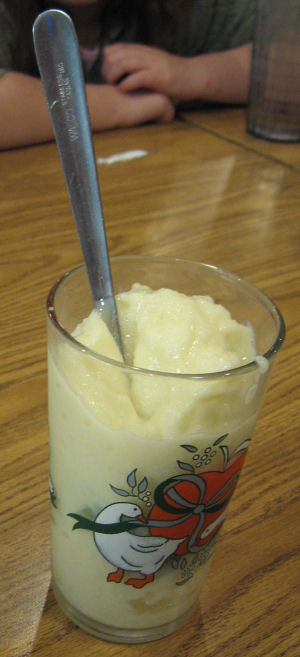 Next arrival was the durian smoothie. I love durian stuff. I love the way it stinks at first and then becomes an irresistible flavor after tasting. Not everyone likes the durian, but I am truly blessed in that regard. Calvin took a taste and liked it, Yvette tried it and said, "meh," because she has no sense of smell. Malia took a whiff of it and found it objectionable. Little kids can be like that.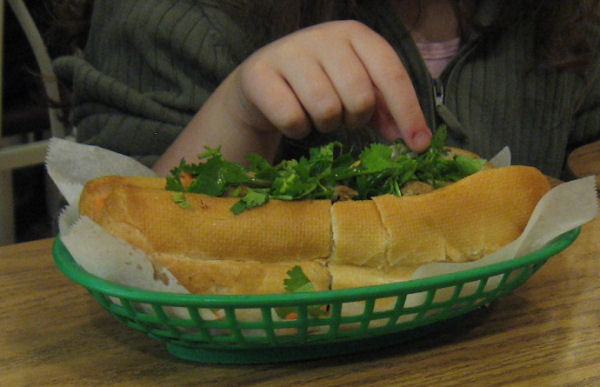 Malia's sandwich was next to arrive. She tried it, but the fish sauce on it was a bit too strong for her. The rest of us took a bite and found it fantastic.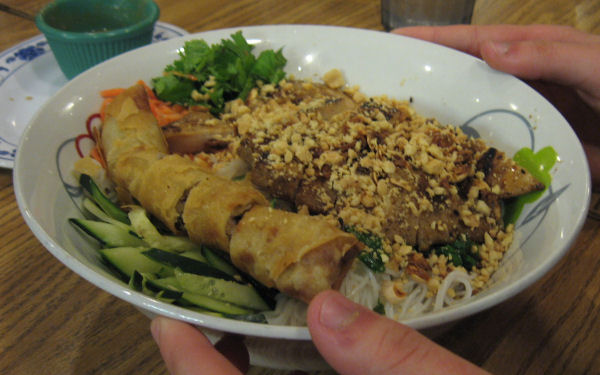 The main entrees were soon in arriving at our table, given how they were on the same tray as the sandwich. Calvin had the chicken with rice noodles.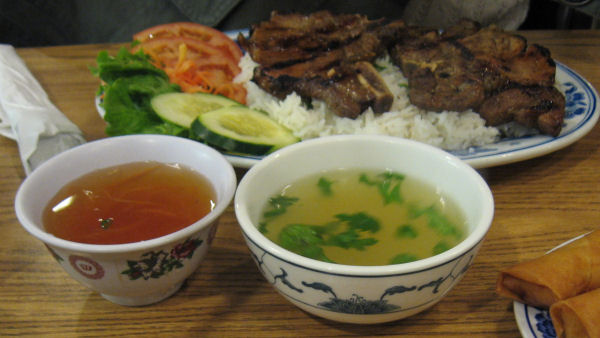 Yvette had the pork chop on rice…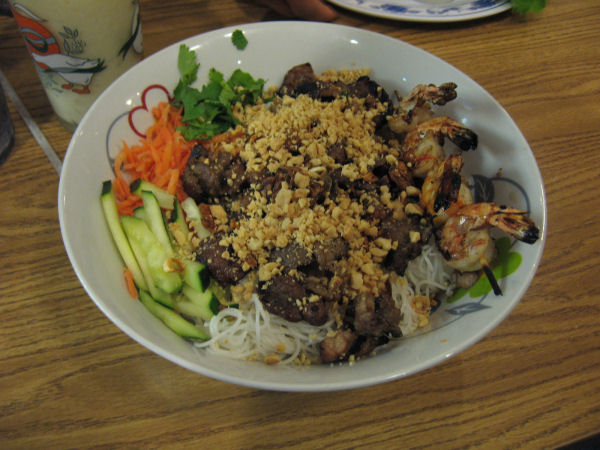 … and I had the pork and shrimp on rice noodles. Those crumbly things on top are peanuts. There's a little bit of sauce to pour on top of it and stir around. Everything in it tastes wonderful and there's an amazing interplay of flavors. I could go on with more gastronomic praise, but suffice to say this stuff didn't just hit the spot. It smacked it right on the nose.
And then, Malia asked to try the durian smoothie. I thought, sure, why not? I don't want to try to talk her down from exploring new flavors. In spite of its smell, I soon saw this: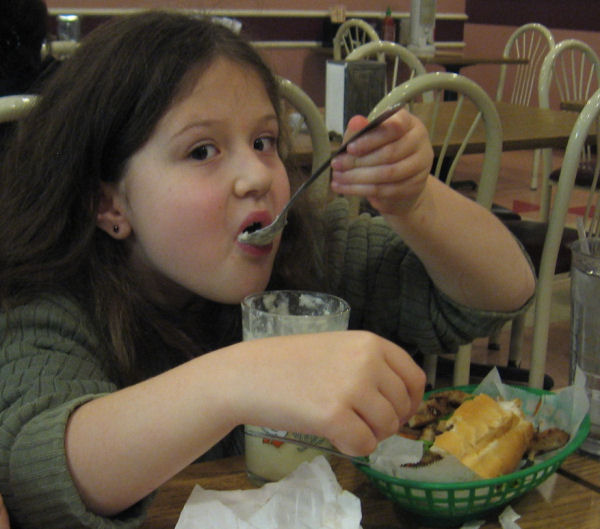 She ate about half of it! The flavor Andrew "Bizarre Foods" Zimmern can't swallow, she ate half of! I couldn't believe it. I'm proud of her for giving it a try and finding another new taste to add to her repertoire.
I decided to eat some of her sandwich in exchange for the smoothie. 🙂
Was it good? See for yourself: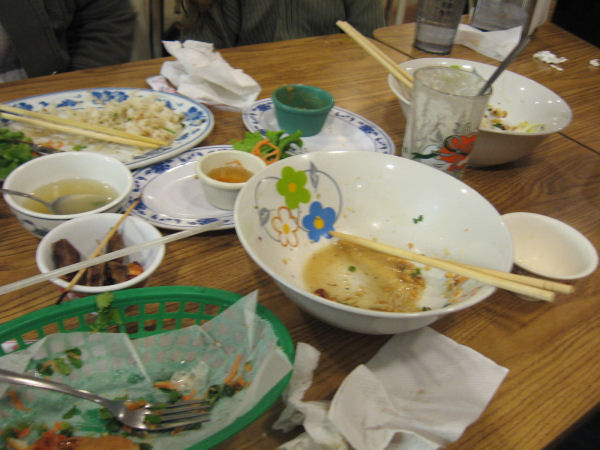 We pretty much cleaned our plates. Thank you for the happy birthday, Huong Ly!