Fees and Procedures
The basic portrait will cost $50. That covers my time and materials. If the work is more time-consuming, the price will increase because the time required will increase. That's fair enough.
If you're curious as to why I don't charge $6000 for a portrait, like some guys do, scroll down and read all about it.
Here's my fee schedule. These should serve as baselines for your commission. I am happy to consider all special requests you may have. If you send me email, we can discuss them at length and set a fair price for your commission.
| | | | | | |
| --- | --- | --- | --- | --- | --- |
| | Classic Black & White | Stylized Monochrome | New Nagel Style | Psychedelic Rainbow | Full Color |
| One Figure, 8"x10" | $50 | $55 | $60 | $65 | $70 |
| Detailed background | + $10 | + $10 | + $10 | + $10 | + $20 |
| Each additional figure | + $10 | + $10 | + $10 | + $10 | + $20 |
| Increase to 12"x18" or larger | + $25 and up | + $25 and up | + $25 and up | + $25 and up | + $30 and up |
Detailed Background: This is for a background I draw/paint or that otherwise requires a significant amount of additional work. Some stock backgrounds I have handy are easy to work with and won't be any extra. If you already have a photograph for a background you'd like me to use and it won't take much work to fit in, no additional charge is needed.
Additional Figures: Be it a lover, child, pet, sibling, parent, whatever. If there's another living creature in that picture, it will require more work to get it done right, hence the additional fee.
Increased size: This is primarily to cover the additional time involved in making sure a work will look good when printed out in a larger size. There is a great deal of time involved in that process.
Once finished, I will send you the image via email and you are free to use a service such as Shutterfly.com or WalMart or some other printer to handle it. Once printed, you will want to go to a local craft store to have it matted and framed - or to a professional framer, if you want to go that route. The framers will tell you about your framing options. Keep the image under glass and out of direct sunlight and it should bring you and yours joy for generations.
Prices do not include printing charges associated with the printer you select. You are responsible for getting your own matte and frame for your image.
When you commission your special work, please send me several photographs to work from. I'd prefer ones where you're not looking directly at the camera and forcing a smile. Relax. Use a natural expression. Find a neat spot in your home or city where the background's cool and the lighting plays tricks. Find a place you love, go there, and have someone take a picture of you not forcing a grin.
Some great poses would include dropping the shoulder closest to the camera, kissing the one you love, or laughing. Serious also works. Just have fun in your poses and do something that's you, not the "cheese" everyone else thinks is necessary to make a picture.
Once you've gotten your pictures, send me email In your email, include the pictures you'd like me to work from (3-5 should be good, but I've worked with people who had just one). You should also indicate what kind of style you'd like for it. If you could mention the 3-5 pictures in my galleries you like best, that will be a great help in fixing my style for your image. Feel free to suggest colors. In our emails, we'll discuss what we can do with your image.
This consultation process is free and is vital in order to reach agreement on what I should do. You then pay me and then I get to work on it. When I'm done, I send it on to you. Simple as that. But I do need to stress that you pay me up front before I do any major work.
If you need me to combine figures from multiple pictures, I can absolutely do that. We can discuss that sort of special request in our consultation sessions.
I accept money orders and PayPal for payment. We can discuss that further in our emails. So send me email today and let's get started!
Art. It's Good for you!
Why I don't do $6000 portraits...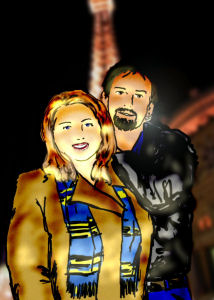 If you commission a portrait from an oil painter, you're paying for a lot of traditional methods and ancient practices.
Portrait painters used to be attached to a court, where they would create art for their lord in exchange for a comfortable existence. With the increase in affluence among the middle classes, portrait painters started picking up clients in that level of society.
Trouble was, those guys in the middle classes typically could only afford one, big family portrait per generation. They still bought them, but just the one, big one. Portrait painters couldn't be attached to those households, so they had to adapt to the new market.
The portrait painters hit the road and went from town to town, looking for clients for their services. These self-taught itinerant portrait painters flourished up to the 1850's, when the photograph essentially did the same thing, but in less time, for less cost, and with the added bonus of being reproducible.
The photos were also more accurate, which wasn't necessarily what people wanted. Painting over photographs became a new job for former portrait artists. Some artists even used photographs in place of sketches, for greater accuracy and realism in their works.
Massive oil portraits, however, remained popular status symbols. Now corporations and branches of the government would commission portraits of their leaders to display their power and authority. The oils would cost anywhere from $2000 for a small head and shoulders portrait on up to $60,000+ for a full-length portrait, complete with hands and arms. No feet, though. Portrait painters seem to have an unwritten rule about everyone wearing shoes in their pictures. They also charge more if hands and arms appear in the picture.
I can understand that. Hands and feet are hard to do right.
So where does the non-rich person fit in on this scale? There are other artists willing to do an 8"x10" head/shoulders oil portrait for $175. The same artists might offer a 5"x7" pencil sketch for $50. This is a good rate, when you consider the amount of work they have to do, even for a pencil sketch.
I can get away with charging less because I use a computer to reduce my work times. I'm still drawing and coloring, but using the computer helps it all go faster. I'm also not going for ultra-realism. You want ultra-realism, take a picture with some really high quality black and white high-contrast film. I prefer to leave out certain details that otherwise distract from the truth that lies beneath. I discuss my methods more in the "Digital Techniques" page, linked below.
The $6000 portratist will also fly to your home, take a lot of pictures in a lot of different poses, and usually expect you to pay his travel and lodging expenses. If you got email, you can send me a few photographs and save a lot of expense there.
I do my works for under $100 because I'm having fun with them. I'm not feeding my family on this money. I'm having fun and making a little something on the side. I want you to have fun, too, so I make the fun accessible. These won't be one-shot deals, either. If you need another, I can make another for you for cheap. If you want more than one done in your lifetime, this is a price you can easily afford.
Look at this another way... if you drop $6000 on me, you won't get just one picture. You'll get about 80 to 100. That's a whole lotta fun.
All images and text ©2006 and on, Zzzptm Web Designs and L. Dean Webb. Unathorized reproduction or copying is prohibited, but will likely happen anyway, because this is the Internet, after all.